In spite to have been the angular stone of the last collection Dior Haute couture, equestrian art continues this season to fascinate John Galliano. However, if the topic remained the same one, the angle of incidence proves somewhat different, allowing to the Master places to affix with its rider one declads attractive, fault of being new…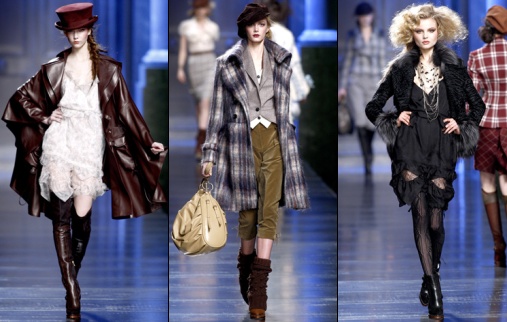 With this collection (which it entitled "the seduction of the libertine"), the artistic director of Dior once more allows himself to develop the register of stripped the 1900. However, if it takes again the almost intrinsic laces, ribbons and other transparencies today with its style, it associates to them another of its topics of predilection: the wardrobe male of the 18th century. That thus enables him to constitute a cloakroom where the duality of the Dior woman more than was ever explored.
At the same time mischievous and sensual, dominating and delicate, the MUSE of John Galliano is moulted successively as a young stableman in jodhpur, as a courtesan in trench with Basque and suggestive combination, when it does not borrow from Gavroche its declads gouailleuse…
In practice, Galliano multiplies the variations around the leather - which wants to be either ultra boyish then, or thoroughly perforated - as well as creations in muslin draped, embroidered or interlaced wheels and laces, which often reveal a retro linen room.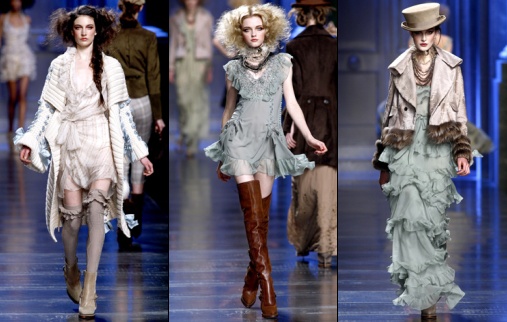 If the creator had stopped there, the collection would probably have been considered to be disappointing, and this in spite of its extreme esthetism. It would have indeed been easy to regard it as redundant (because too near to the claw of John Galliano) and to show it to plagiarize the seam pâlement…
However, by enamelling its cloakroom of many attractive shoes and some parts of knittings impressed of languorous softness, Galliano makes it possible Dior to maintain the desire and to continue to fall under modernity.
Bathing in camaieux mahogany tree/caramel/tobacco/hazel nut, long the cuissardes semi-leather semi-deer, the low boots with the riding support and the back finely laced, the ankle boots equipped with a sheath taking again the principle of the gaiter or the boots needles more skinny that one second skin are as many models mixing with audacity spirit, tradition and seduction.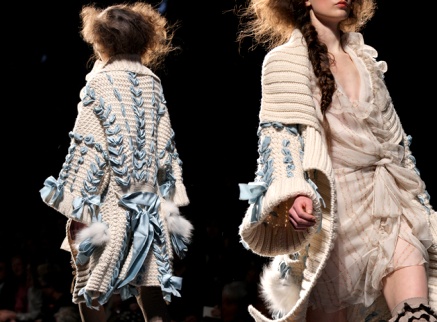 One notes in addition that the passion from which currently knitting profits seems to have found here an expression new and refined (but nevertheless cosy), in the shape of a full waistcoat ivory laced of broad turquoise ribbons which is likely to strongly mark the spirits.
Lastly, it seems that the twisted gaiters threaded on a pair of stiletto heels could well quickly make school on the Parisian paving stones…